Kokoon headphones review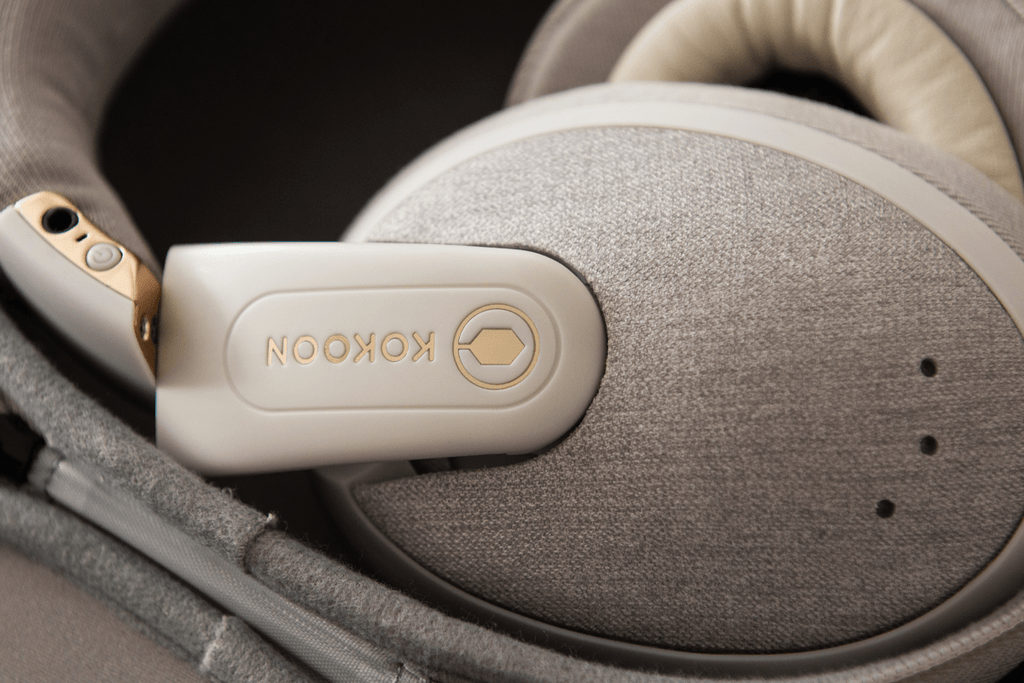 What's the verdict?
Kokoon over-ear sleep headphones come priced at $314.99. They are ideal for customers who want to switch off to audio just before bed, relax to audio while at home, or for back sleepers who want to block out noises during the night.
However, while some side sleepers enjoy wearing the headphones during the night, its not for everyone. If you are one of those side sleepers, who is not used to wearing over-ear headphones to bed, then Kokoon's in-ear sleep headphones, nightbuds, are the perfect solution for you.
But like any Kokoon review, lets start at the top to see whether sleep headphones (or sleep ear buds) are even the right thing for you.
Why do you need sleep headphones?
Your bedroom can be a loud and noisy place. Getting a peaceful night's sleep can be difficult to come by. This can be because of a snoring partner or neighbour making noise or it could be your mind racing just before you get into because you've had a stressful day.
In these times, being able to put on a pair of sleep headphones or sleep earbuds to block out noises can be a godsend. Sleep headphones are also ideal because you can play your preferred audio while you sleep, as opposed to earbuds that just block noises. You can listen to audio such as guided meditations, affirmations or even sleep music, all known to help you sleep and relax better.
Some people also prefer to wear sleep headphones just before bed or during the day. Taking a moment of time to switch off from the hustle and bustle of the day can be very calming. In these cases, a comfortable pair of headphones that you can wear for a long period of time can be very helpful.
We all know our sleep habits play an important part in our sleep hygiene. For some, sleep headphones are a way of tracking their sleep and learning how to improve their sleep each day. A pair of sleep headphones that also have in built sleep sensors would be important if you were someone who wanted this.
Thankfully, for all these situations above, sleep headphones are a luxury many people can afford, plus it's a safer alternative to medications!
Do Kokoon headphones help you sleep?
Lack of sleep is what inspired Tim Antos, Kokoon's CEO, to create Kokoon Sleep Headphones. Tim had difficulties with sleep, in large part due to a stressful period at work. He tried many things, from changing mattresses to sleep medications, and none of them helped his sleep. Desperate for solutions, he consulted a sleep clinic.
At the sleep clinic, Tim discovered the power of audio and how it can help with better sleep and relaxation. But he immediately realised those tools and techniques in the sleep clinic weren't available to him every single day at home. Since then, he made it his mission to bring audio techniques from the sleep clinic to the hands of every person who experiences sleep issues in their own homes. Kokoon was born.
Kokoon sleep headphones have been "re-imagined from the ground up" to specifically help you fall asleep faster and the improve the quality of your sleep. The sleep headphones do this by 1) being comfortable enough to sleep in, 2) removing disruptions, 3) helping you switch off with audio and 4) teaching you new sleep habits that you can stick to each day.
Kokoon sleep headphones reviews
So what's the verdict on Kokoon? Here's a collation of Kokoon reviews from across the internet. Hear from Kokoon customers, the press, top review sites and sleep blogs on what they think about Kokoon Sleep Headphones.
What are customers saying about Kokoon?
Below is a collection of Kokoon reviews from our customers. Click on the links to watch their Kokoon review uploaded to YouTube.
What are the press saying about Kokoon?
Below is a collection of Kokoon reviews hot of the press. Click on the links and read their Kokoon headphones review:
The Mirror: "The noise-cancelling was great for blocking out low-level noises like cars outside, snoring or talking which is a godsend for light sleepers."
Men's Health: "Kokoon may have solved this issue: Their product oozes comfort the minute you put it on."
Dating News: "Kokoon Sleep-Aid headphones can help couples reduce their stress and get a full night's sleep"
The Irish Times: "The headphones are not just for sleep but also relaxation, linking up with an app that offers guided meditation, programmes to help get you to sleep and soundscapes to mask background noise."
Magnetic Magazine: "The Kokoon headphone and its proprietary app are purpose-built to help you relax and even sleep in."
Tech Crunch: "Kokoon offers an over-ear solution to sleep"
The Guardian: "Antos is a trained mechanical engineer. In developing Kokoon he applied his technical skills to creating a product that was not only ergonomic and comfortable – the headphones flex and mould to the shape of the wearer's ear – but also broke new ground in intelligent audio"
Wired: "They're sloped on either side, so when you lay down on your side, your pillow isn't pressing a big boxy ear cup against your head"
Yahoo: "Kokoon combines Onkyo-powered noise-cancelling headphones with brain wave technology to help you sleep."
How do top review websites rate Kokoon?
Here's how the top review websites rate Kokoon. Read our customers' Kokoon sleep headphone reviews directly on their sites:
How do sleep blogs rate Kokoon?
Here's how the top sleep blogs rate Kokoon. Click on the links and read their Kokoon headphones review::
Sleep Gadgets: "

a smart, feature-rich pair of headphones designed for sleep and relaxation with EEG sensing and an extensive library of 'intelligent' audio programs

"
Pocketlint: "Kokoon's smart earbuds are designed to make your slumber even more peaceful"
Expert Reviews: "Despite the high price tag, the Kokoon Relax are worth checking out if you're plagued by sleepless nights"
New Atlas: "Kokoon EEG headphones target the sleepless – just don't roll over"
Ideal Home: "Kokoon are the comfiest headphones you'll ever wear, even when lying on your side"
iMore: "Let Kokoon's soothing technology lull you to sleep"
Real Home: "The Kokoon headphones are, without doubt, the most comfortable headphones I have ever used"
Are Kokoon sleep headphones the right sleep headphones for me?
Kokoon sleep headphones combine comfortable ear cups, sleep sensing technology, noise protection features and relaxing audio to help people sleep and relax easier.
Ultimate Comfort

Comfort was at the heart of the product design and are perfect for back sleepers who want to listen to audio and block noises, during the night. Many also wear Kokoon just before bed to help them switch off or during the day as a normal pair of comfortable headphones.
To achieve this ultimate comfort, Kokoon have moved the headphone's electronics to the headband and developed the Flexmould Comfort System™ which spreads pressure from sensitive areas and boosts comfort. They have also developed a special cushioning airflow system which means your ears stay cool while also creating an acoustic seal that prevents sound waves from entering the ear cup.
Do side sleepers find Kokoon sleep headphones comfortable?
Some side sleepers do enjoy wearing Kokoon sleep headphones, but Kokoon recommends using a deep soft pillow if you are wearing them to bed. If you are having difficulty adjusting to the comfort of the sleep headphones, it is recommended that you speak to their customer service teams at support@kokoon.io. Kokoon offers a 14 day return policy where you can try the headphones and return if they are not for you.
Protecting you from surrounding noise
Once you fall asleep Kokoon protects you from disrupting noises that could awake you. Kokoon sleep headphones do this in 3 ways:
A protective audio seal, that stops sound waves from actually entering the earcups
Active noise cancellation to cancel out sounds around you
Active white noise which is introduced as you fall asleep and is specifically designed to mask disturbances and helps promote better quality sleep
Sleep sensing technology
Kokoon has developed miniature dry EEG sensors that are discreetly incorporated within the earphone as well as an accelerometer and a gyroscope, that allow the Kokoon app to actively track how deeply you're sleeping, as well as enabling it to adjust your audio to help block out external noises. Here's how the sleep sensors look:
Intelligent sleep app
The headphones connect to Kokoon's Android and iOS smartphone apps via Bluetooth.
The app holds a library of audio programs to help you sleep or just relax: a selection of CBT based audio techniques specifically designed to help people fall asleep is available, as well as shorter guided relaxation programs, sleep aiding music and soundscapes.
A well as helping you fall asleep the app also helps keep you asleep thanks to the active white noise feature. The headphones' sleep sensors, detects that you are falling asleep, and fades out whatever audio you are listening to, gently replacing it with active white noise that helps keep you asleep at night.
Other features
Although Kokoon's key focus is sleep, the headphones also do a great job at being… well, headphones. The quality of audio has been pointed out by many as being on par with the biggest names.
Also, if the 13-hour Bluetooth battery life isn't enough, you can connect the headphones with a 3.5mm jack cable (provided in the Kokoon package) that has a built-in microphone to enable hands-free call control.
What's in the box when you buy?
The Kokoon headphones come with:
Travel case
USB charging cable
3.5 mm jack audio cable
Sleeping mask
User manual