The Sleep Charity launch their 'Sleeptember' 2023 campaign - What is Sleeptember?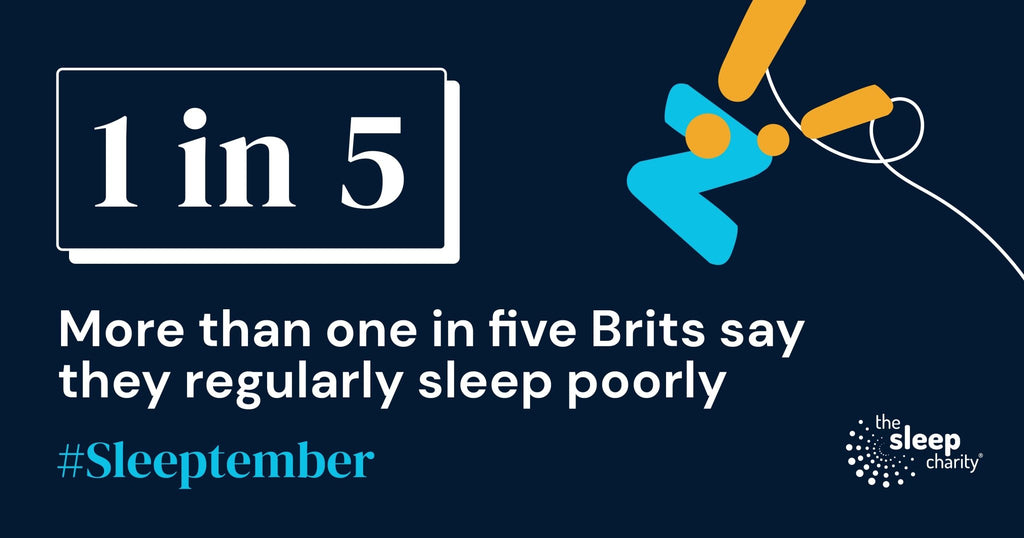 This month, Kokoon are supporting The Sleep Charity's annual initiative to raise awareness about the importance of good quality sleep - Sleeptember.
What is Sleeptember?
Sleeptember is The Sleep Charity's month-long initiative to raise awareness of the importance of sleep and how it affects our lives. The theme for this year is 'sleep education' with their #KnowYourSleep campaign.
As sleep education advocates - we will be helping The Sleep Charity get the word out to anyone wanting to improve their quality of sleep - starting with understanding what 'good sleep' means, why it's important and what they can do to encourage quality slumber. 
According to a recent survey, as many as 1 in 5 Brits struggle with sleep - almost the populations of Greater London and Greater Manchester combined.
Next month also sees Better Sleep Week (16th - 22nd October) and National Sleep In Day (29th October) take place, the latter being the day that the clocks roll back - and we all get an extra hour of sleep in bed!
Who are The Sleep Charity?
Founded 2012, The Children's Sleep Charity - as it was then - was founded by CEO Vicki Dawson - a sleep deprived mum, who's aim was to ensure that every parent and carer in England and Wales has access to quality sleep support.
In July 2020, just as the UK was coming out of the first major lockdown, the charity acquired the Sleep Council - a not for profit organisation, helping continue the mission of empowering the nation to sleep better and increasing awareness of the importance of sleep in our overall health and wellbeing.
In 2022 - Celebrating 10 years of helping nation get better sleep - The Sleep Charity launched the National Sleep Helpline and continue to spearhead initiatives to deliver better sleep for all! 
Further information can be found on their website.
Why Sleeptember?
In the UK, September can also prove to be one of the most challenging times for sleep. 
With schools and universities returning after long summer breaks, it can be a restless time for not just the kids and young adults returning to education - but also their parents dealing with their worries.
The changing weather also plays a significant role. As summer transitions into autumn, temperature fluctuations can disturb our comfort during the night. Cooler nights might require extra bedding, while the irregular British weather can lead to humidity and discomfort, making it harder to fall asleep - and, importantly, stay asleep.
The diminishing daylight hours in September can also further affect our circadian rhythms, as the body struggles to adapt to shorter days. This can disrupt the production of melatonin, a hormone that regulates sleep, further complicating our ability to achieve restful slumber.
Why are we supporting The Sleep Charity?
As we prepare for the launch of our new Philips Sleep Headphones next month - we continue to advocate and innovate 'better sleep through audio and tech'.
Supporting The Sleep Charity will allow us to share our expertise on natural, sustainable ways of getting better sleep, improving sleep routines and achieving better health and well being.
The new generation of Sleep Headphones bring with them all the features that made Nightbuds so popular, plus the cutting edge technology expertise of tech giants Philips and their 130 years of experience in creating top notch products.
More information can be found in our press release here.