The dawn of a new sleep era is here: Philips Sleep Headphones with Kokoon launch October 2023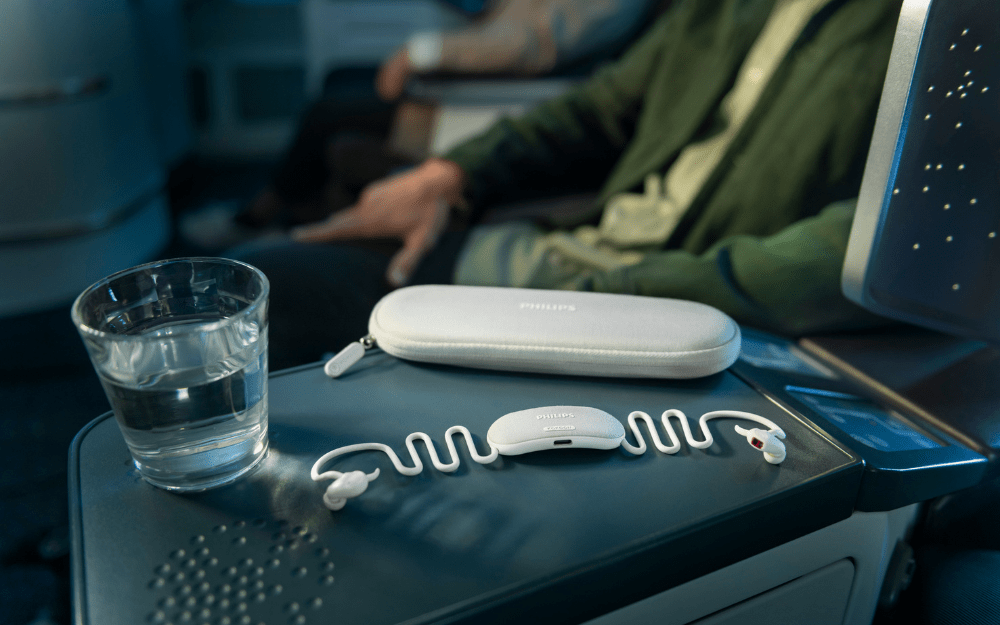 Back in February we announced our partnership with TP Vision and the next generation of our sleep headphones. Today we're excited to bring you much more info on the upcoming release and product spec details.
Philips Sleep Headphones with Kokoon guarantee a good night's sleep
• The TP Vision and Kokoon partnership introduces the Philips N7808 sleep headphones – an intelligent, comfortable and effective sleep solution.
• Available from October 2nd 2023, the Philips Sleep Headphones combine TP Vision's acknowledged expertise in product design, development and manufacturing with Kokoon's unrivalled sleep science expertise derived from over a decade's intensive research.
• The Philips Sleep headphones use an innovative 3D statistical shape model to optimize their design for sleep. At just 6mm thick - they are the thinnest earbuds in the world, offering incredibly comfortable in all sleep positions, and all night long.
• Intelligent operation uses smart audio fade to help people to fall asleep and also masks outside noise to prevent their early wake-up.
• Integration of the sophisticated Kokoon App with the headphones' advanced sensors allows user sleeping patterns to be monitored, audio playback to be optimised to a user's sleep and personalised sleep coaching. There will be a free version of the app that gives users access to the core features if they choose not to subscribe to the paid version.
• Available via www.sleepheadphone.com and leading European retailers the Philips Sleep Headphones are priced at a recommended €249.99/ £249.99 / $249.99

A partner who snores, a baby crying, a dog barking, traffic in a busy neighbourhood, stresses or just worries keeping you up - anyone who regularly suffers the misery of disturbed sleep will tell you that the value of a good, uninterrupted night's rest is just about priceless.

Designed in partnership between TP Vision and Kokoon, the new Philips Sleep headphones offer one of the most sophisticated, comfortable and effective solutions yet available - helping wearers fall asleep more easily, while also intelligently protecting their peaceful slumber from outside disturbances as they sleep.
Sleep occupies nearly a third of our life. It is vital to our physical health, mental health, energy and productivity. More than 20 large scale epidemiological studies all report the same clear relationship: the shorter your sleep, the shorter your life. While there are an almost unlimited number of ideas claiming to offer solutions, 89%* of consumers already agree that audio helps them relax, distract their mind and sleep.

While 17%* also admit having tried to use their existing headphones to do the job, but nearly all agree that it's not a comfortable solution and not a great way to protect their expensive audio investment.



What's required is a dedicated product that combines a snug, comfortable fit with great sound, intelligent, adaptive and personalised performance, and all in combination with accurate sleep monitoring.

The Philips Sleep Headphones are precisely that product.

All of the main electronic components have been relocated away from the earbud and into a shallow enclosure that sits at the nape of the neck - typically undetectable when lying down. The inclusion of balanced armature drivers, allows the headphones to have the smallest profile measuring just 6mm thick, as opposed to the more normal 20+mm body of most earbuds.

Philips has modified the design of the original product concept with a new silicone cable sleeve design with a tighter wrap - to reduce the pressure both on the outer earflap and in the ear-canal – and has rotated the earbud around the ear-tip to help avoid the cable contacting with the sensitive tragion part of the ear.

The tiny size of the headphones – now with the option of five ear-tip sizes – plus the cable modifications ensure that the ear buds are always correctly placed and makes sure they stay in place all night long.

Sensors within the earbuds monitor the users sleep pattern to adapt the audio delivery and automatically fade out audio as the user drifts off.

External noises are usually the main reason for disturbed sleep. The Philips Sleep Headphones have excellent noise isolation that works in combination with an intelligent noise masking feature and SnoreProtectTM technology that uses precisely tuned, slowly introduced, white noise to smooth out peaks in external sound that can be disruptive, helping users to get a less disturbed, better-quality sleep.

Personalised assistance is provided by the integration with the Kokoon App. Sleeping patterns are continuously monitored via accelerometers and a tiny, optical heart rate monitor within the earbud that works by shining light into the skin and measuring how light is scattered from a body's blood flow. The combined information can then be used to help users better understand and navigate their path to better sleep. Users can access personalised coaching and specialist audio content tailored to their needs, be it after a stressful day, an unfamiliar sleeping environment or just having a lot on their mind.




The headphones have a ten-hour battery life and can also be used to make calls and stream music including via Apple Music, Audible, Spotify, YouTube, the Calm and Headspace Apps or via the Kokoon App.

For further information, please visit www.sleepheadphone.com
Netherlands page: www.philips.nl/c-p/TAN7808GY_00
France page: www.philips.fr/c-p/TAN7808GY_00
UK page: www.philips.co.uk/c-p/TAN7808GY_00

* FutureSource Consumer Research 2022
About TP Vision
TP Vision Europe B.V. ('TP Vision') is registered in the Netherlands, with its head office in Amsterdam. TP Vision is a wholly owned company of TPV Technology Limited ('TPV'), which is one of the world's leading monitor and TV manufacturers.

TP Vision is a consumer electronics key player in TV and audio entertainment. TP Vision concentrates on developing, manufacturing and marketing Philips-branded TV sets (Europe, Middle East, South America, India and selected countries in Asia-Pacific) and Philips-branded audio products (globally) under trademark license by Koninklijke Philips N.V. We combine the strong Philips brand with our product development and design expertise, operational excellence, and industry footprint of TPV. We believe in creating products that offer a superior audio and visual experience for consumers.

About Kokoon
Kokoon Technology have been working in and around sleep technology for over 10 years. Founded with the belief that better sleep is vital to improving the long-term health and productivity of humanity their mission is to better integrate sleep science into everyday life through technology. A team of sleep scientists, engineers and researchers they exist to make better sleep easier for all. Their groundbreaking technology has received global recognition winning the National Sleep Foundation Sleep Technology of the year award, TIME invention of the year and a multitude of other industry accolade's.