The Future of Sleep is Here - Nightbuds by Kokoon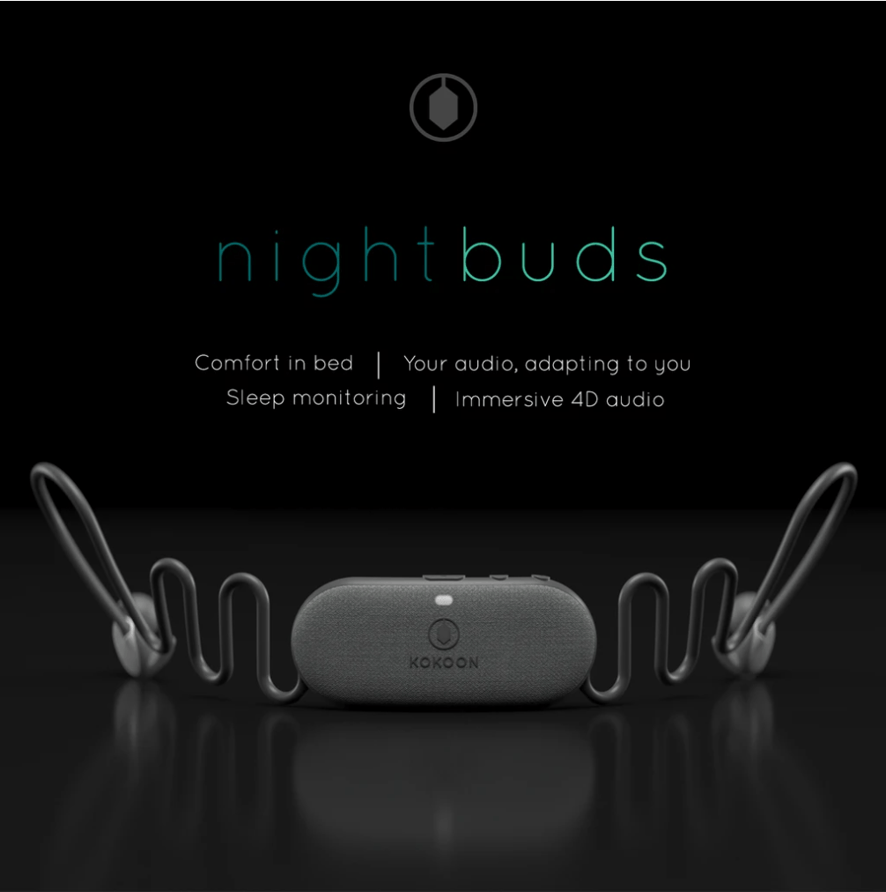 Sleep is a vital, often neglected, part of every person's overall health and well-being. It enables the body to repair and be fit and ready for another day. But research is showing more than 45% of Americans have poor sleep at least once a week. Getting good sleep can be hard, especially in 2020.
At Kokoon we believe in helping the world get better sleep and relaxation and we have been doing this for the past 6 years with our Kokoon Sleep Headphones, shipping over 30,000 headphones worldwide and helping over 1 million sleeps.
Along the way, we have learnt from our customers and backers. What works and what doesn't work for your sleep and relaxation. And with that in mind, we are now introducing our latest product, the future of sleep technology, NightBuds by Kokoon.
NightBuds by Kokoon are tiny, sleep sensing headphones, that work with our new integrated app to intelligently look after your sleep. Developed with sleep scientists, the NightBuds experience moves away from the tired, outdated approach of simply tracking how much sleep you get, and moves to a more holistic approach; focusing on your sleep quality and ensuring you feel your best for the day ahead.
Developed for a "barely there" feel, NightBuds by Kokoon are ultra slim, with comfortable flexible silicone earbuds. The buds are just over 5mm thick; nearly 4 times thinner than your average Bluetooth earbud, which makes it perfect for side sleepers. They are also included in different size options, so it's easy to find the best fit possible for you.
Pre-Order today: http://nightbuds.co.uk/
Have you ever fallen asleep with your favourite podcast on, but found yourself waking back up at night needed to turn it off? Worry no more with our adaptive audio features. Our "Auto Pause" and "Fade Out" features detect when you fall asleep, pausing your audio and gently fading it out as you drift off.
Created with sleep scientists, NightBuds monitor your sleep providing personalized coaching, insights and tips specific to you, to improve your sleep.

Sleep experts and clinicians have found that simply tracking your sleep statistics can begin to have a negative impact on the very thing you're trying to improve. By focussing on isolated metrics, like how long you slept and your sleep stages, this begins to create more stresses when we don't meet our perceived sleep goals and can create anxiety and pressure to achieve the "ideal".
That's why we are doing things differently. Using cutting edge sensors to track your heart rate and heart rate variability, we're not only able to track your sleep quantity but also your sleep quality.
Each day we track your sleep efficiency, the length of your sleep and the quality of it. This rounded approach to sleep monitoring means our app can guide you through personalised sleep coaching to help you get your best night's rest and make the most of your next day.
Escape stress, an active mind, snoring, noisy neighbours and find the perfect, peaceful sanctuary to enjoy your sleep & relaxation with our new 4D audio soundscapes.
Brought to life by our sound engineers, NightBuds by Kokoon gives a whole new meaning to experiencing perspective and depth of sound through your headphones. A truly immersive experience, let us transport you to the place which relaxes you the most, from calming beaches to sizzling campfires.
NightBuds by Kokoon pack the latest technology to make sure you not only have relaxing sleep but also a great everyday experience. From a built in mic for phone calls and volume controls to USB-C charging, and upgraded to Bluetooth 5.1, NightBuds are the perfect headphone even on the go.